Why is it that we collect? Why is it that we covet these things, be they small like coins or stamps, printed media like books and comics, the addictive plastic of toys and figures, or virtual reality of so many of today's incredible games?
Big companies around the word spend huge amounts of money each year researching the market to understand that simple question – WHY? And by and large, they know us probably better than we know ourselves! As Steve Jobs famously said "People don't know what they want until you show it to them."
In the technology industry, that quote is very much the truth, as one of Apple's iconic inventions shows. The iPod, now in hindsight such a simple concept, forever changed the way we listen to, categorise, and collect our music. That one small product alone made music collectors out of millions of people who previously cared little about their vinyl and CD collections!
The gaming industry makes collectors out of all of us yearly with revisions, sequels, and expansion packs making up a huge portion of the market! Franchises such as Call of Duty, Warcraft, The Sims, FIFA, Assassin's Creed, and my personal favourite Street Fighter, have made an art of providing needy fans their fix of their favourite virtual world.
And the common factor above is the inherent desire to have the latest and greatest, that instant gratification for what's hot at the time. And companies know that this is just the very beginning, and the younger you are, the more affect it will have on you later!
What do I mean by this? Let me explain – I'm one of those lucky enough to be born in the 70s, grew up in the awesome 80s and 90s, and as an adult now have a job in the 21
st
century. And even back in the 70s and 80s, companies knew what they were doing to sucker you into things. But it wasn't back then that was the killer, it's the here and now, and something called
nostalgia
!
As a kid growing up in that era, we were exposed to some of the biggest game-changing events to happen in the realm of entertainment. From blockbuster movies like Jaws, E.T., Back to the Future, and Ferris Bueller's Day Off; to the introduction of the Commodore 64 and the first generation of gaming consoles; to the retro classic TV shows and re-runs of Transformers, Masters of the Universe, 1966 Batman, and Voltron; the entertainment industry literally had us at their mercy.
And perhaps the biggest event of them all, Star Wars, was driven by perhaps the savviest businessman of them all, George Lucas. He not only had the creative passion to direct his vision of Star Wars, but had the foresight to retain all rights to the merchandise from the movie and its sequels! And merchandise they pumped out to the masses!
It is these events in our younger days that stay forever in our memory banks, so much so they become a part of our psyche, the very framework of our brain and what it feels when we remember those amazing days! It's those endless Saturday mornings of watching cartoons, hours after (and sometimes during!) school in the arcades playing your favourite games (Double Dragon, Street Fighter II, or Daytona anyone!?!), and watching those VHS videos of your favourites movies until the tape totally wore out!
Back then, as it is now, it was all about instant gratification. There was no thought about protecting that toy to keep it in mint condition, or keeping that cartridge or floppy disk of a game if a new one came out. But companies now know that the memories of years past come flooding back in nostalgic bliss for people as they grow older. And it's an itch they are more than willing to scratch, especially as their key audience is now older and have the means to spend up big!
Star Wars toys have long been collectible, to the extent that the very sight of vintage packaging makes grown men and women behave in ways no adult should normally behave! So what do they do? They combine the action figure technology of today, with the vintage packaging of yesteryear to create some of the most sought after lines of actions figures of recent years! And on the high-end scale, companies such as Sideshow Collectibles and Hot Toys make some of the most accurate Star Wars figures that cater to those collectors who want to relive their memories right there in their display cabinets! From toys, to books, to comics – you name it, they've made it to quench any nostalgic thirst you might have!
But it's not just Star Wars of course. Classic TV shows such as Transformers Generation 1 is seeing a huge resurgence. The entire G1 DVD remastered collection was only just released in Australia, and the Masterpiece Transformers line of figures is directly aimed at those collectors who grew up watching and loving the original cartoon series.
Countless collectibles are now being made specifically to feed the nostalgia within us all. 2013 has already been a huge year with releases from Hot Toys and Sideshow, Diamond Select Toys, NECA, Funko, Mattel, DC Collectibles, and many others that all throw back to the golden age of movies and TV. But of course there's no slowing down, with the leadup to Christmas and beyond filled with so many releases that will be available at retailers such as Gametraders. Retro classics such as the Hot Toys 1966 Batman and Robin, Popculture Shock MOTU Beastman statue, and many more!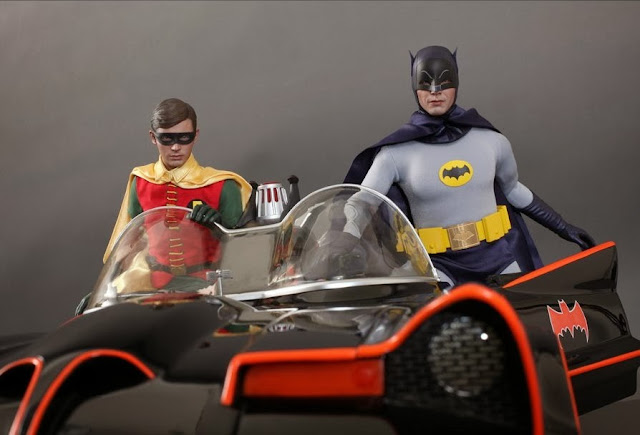 In essence, it all comes down to one thing, and that is our pure, unadulterated passion for the things we love! It never ends, and huge events always happen in cycles. Epic cinematic successes have occurred such as The Avengers and The Dark Knight trilogy, along more reboots than you can shake your nostalgic fist at. Mammoth followings for games such as Minecraft, Grand Theft Auto, Battlefield and The Sims have created more gaming addicts than ever before. TV shows such as Game of Thrones, The Walking Dead, and even Power Rangers Megaforce and Adventure Time for the younger demographic, have glued a new generation of fans to their screens.
It is these events today that are wiring the brains of fans in exactly the same way that happened years ago in my generation. In decades to come, it will be these fans that will look back with their fond memories of the time they've spent playing, watching, discussing…..simply LIVING the entertainment we have today. The global interaction driven by the social media today will entrench these memories perhaps even deeper than before, and the craving for that nostalgic fix in years to come will be greater than ever. Without a doubt, the entertainment companies know this, and will always be there to satisfy our hunger for it. And I wouldn't have it any other way
J
Khai @ Kool Kollectibles
http://www.koolkollectibles.net
http://www.facebook.com/KoolKollectibles
http://www.youtube.com/user/ckly76